A roofing material with centuries of use
While clay is a material that could be seen in the 4th Century, as well as the 21st Century,  concrete tiles are relatively new, although it has now b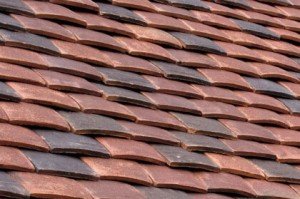 een used for decades.
The popularity of a tiled roof isn't hard to understand and the sheer variety of tiles makes them one of the most versatile choices for a roofing material.
Here at Macclesfield Roofing we supply tiles in a wide range of colours, shapes and styles, so we have something suitable for every home and area.
With over 26 years experience, Macclesfield Roofing customers know they are in safe hands and can expect a professional service from us every time.
Tiles roofs to last decades 
If you are considering having a tiled roof then you will need to take the state of your current roof into account. Tiles are a heavy material and your roof will need a proper structure to hold the tiles. If you need to re-roof an existing tiled roof then the chances are that it already has sufficient support.
Macclesfield Roofing know that quality materials are critical to a roof
We use top suppliers of concrete and clay roof tiles such as Marley and Redland. We can also handle any work your tiled roof may require- no matter the size of the job we can help you from the replacement of missing tiles or any bigger projects.
Clay tile roofing is the one of the oldest and the most popular materials in the world. A well maintained clay roof can last over a hundred years.
It is a highly durable tile and flexible as it comes in a variety of shapes, sizes and colours. The material is also resistant to mould and rot, as well as withstanding gale force winds.
Its reflective properties can help make heating and cooling systems more efficient, and doesn't contract or expand in hot and cold temperatures.
Roof fitters should ensure that the structure is strong enough to support the weight of the clay tiles, especially if you are installing a new roof on existing support beams and changing materials to clay tiles. Extra support beams may need to be installed to withstand the weight.
Clay tiles will probably never need to be replaced once fitted.
Concrete tiles have similar properties and advantages as the clay counterparts, and is a substitute for clay.
This is a popular choice for modern properties as well as being strong and able to withstand harsh climates.
Low maintenance is required once the tiles have been installed, albeit correctly.
If any adjustments to a section of the roof is carried out such as installing a skylight or replacing a broken tile, then only tiles around that area need to be removed.
Tiles are fire resistant and manufactured in a wide choice of colours for the customer to choose from.
These are the latest edition to join the tile product range.
Plastic roof tiles are lightweight, tough and durable. They are also easy to shape and manufacture with a wide choice of colours produced on the market.
They are constructed using hard-wearing polycarbonate materials, usually from recycled items and produced in uniformed moulds.
Tiles can be easily cut and shaped to fit the roof area.